Come and Sing with John Rutter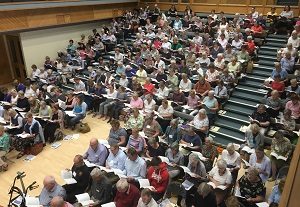 A group of singers from LDCS took part in this event, which turned out to be a delightful day. This was our choir's third invitation event from the Northampton Bach Choir, and the second with John Rutter.
The programme included John Rutter's selection of classic choral pieces some of which, such as Amazing Grace, The Hallelujah Chorus and Jesu Joy of Man's Desiring, were well-known, but also several less-performed pieces which provided some good sight-reading practice. We also rehearsed a small number of the composer's own pieces such as The Music's Always With You, All Bells in Paradise and When Music Sounds. It was indeed a privilege to be allowed to try out something entirely new, as well as an enjoyable challenge.
The singing was interspersed with the composer's reminiscences of his musical journey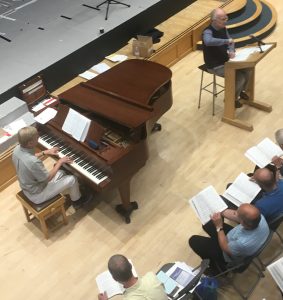 from his days as a boy chorister and through his career at Cambridge. His tales were interesting, sometimes moving and occasionally very funny!
On what was probably the last beautiful, warm sunny day of Summer 2019, we were able to take advantage of the pleasant outdoor spaces at Northampton High School during the lunch and tea breaks, and the atmosphere throughout the day was pleasant and relaxing.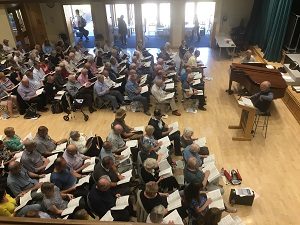 Details
Date:

September 21, 2019

Event Category: